Prof. Dr. Belkheir HAMMOUTI
Joined the Euro-Mediterranean University of Fes, last September, after 32 years in the Faculty of Science, Mohammed Premier University - B.P. 4808, 60046 Oujda - Morocco.
E-mail: hammoutib@gmail.com
Contributions should be submitted electronically to: jmes2015accepted@gmail.com

Prof. Dr. B. Hammouti was awarded a PhD degree in corrosion science in 1994. He is currently a Researcher in the Euro-Mediterranean University of Fes after 32 years (1991-2023) in the Faculty of Science, University of Mohammed I, Oujda, Morocco and 6 years (1985-1991) in the University Mohamed 5 in Rabat. His research interest covers acidity sensors and corrosion inhibition of iron, steel, lead, aluminium and copper in mineral acids by tetrazole, pyrazole, polymer, thiophene, pyridine, peptide, aminoacid and ester compounds. Additionally his research interest is moreover directed towards the field of the pesticides, selective electrodes water treatments. He has published more than 700 papers in corrosion and sensors fields. In last March, 2006, he received the Elsevier Award as the most published author in Morocco since the year 2000.
On July 30, 2015 by His Majesty The King Mohammed VI, decorated Prof. Hammouti of Wissam (Faress) on the occasion of the 16th anniversary of King Mohamed VI's accession to the throne day
International Award
Elsevier Award as the most published author in Morocco since 2000, Hilton, Rabat-Morocco, March, 2006 according to www.scopus.com. The Award was presented to His Majesty the King Mohamed VI during his visit to the University of Mohamed Premier Oujda, in June, 2nd 2011.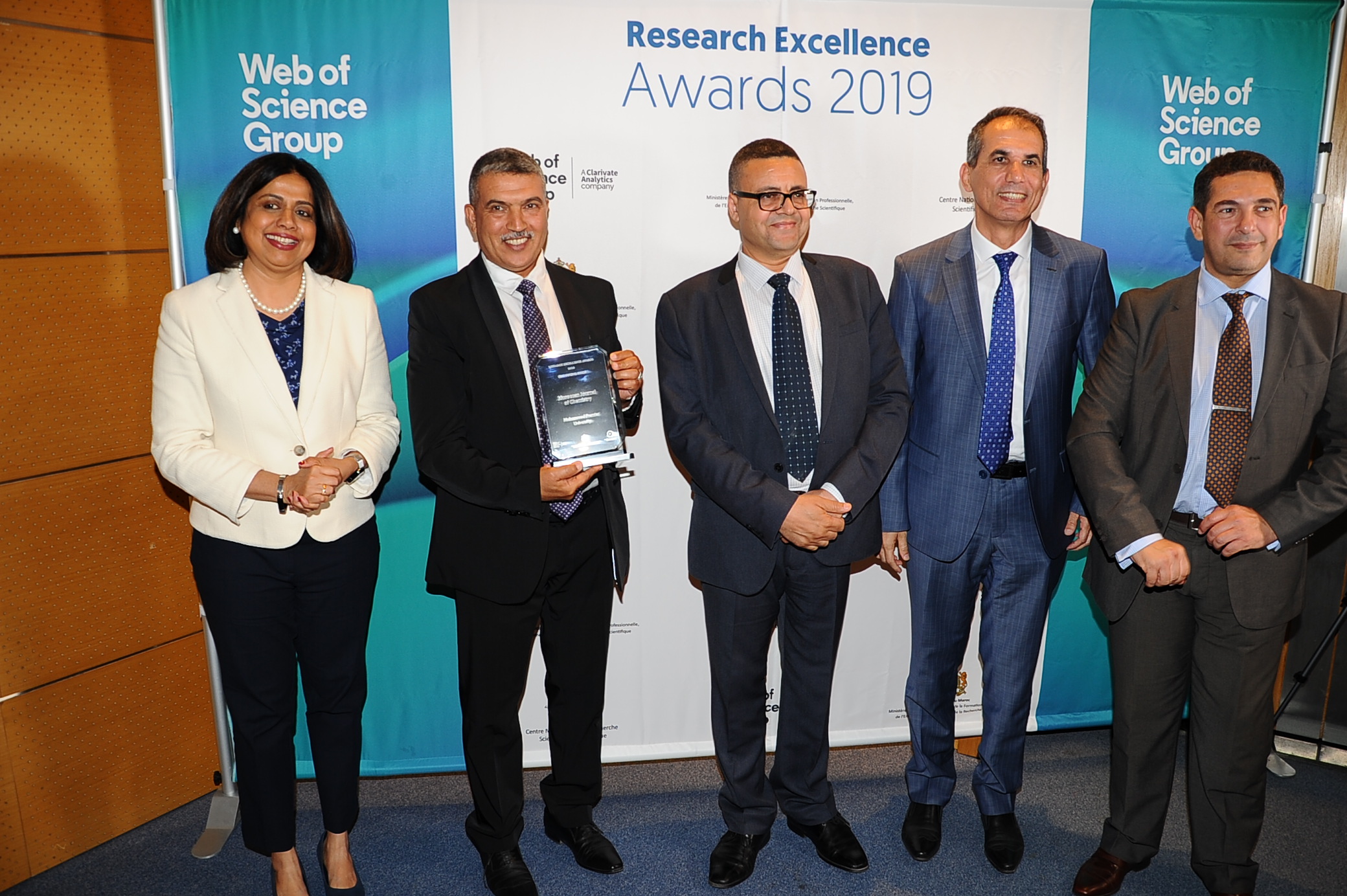 Clarivate WOS Award
We are honored, as Editor Prof. Chetouani and Editor In Chief (Prof. Hammouti ) by indexation and coverage of Our Moroccan Journal of chemistry in the ISI Web of Science actually named Clarivate in July, 3rd, 2019. The Honorary Ceremony was attended by the Minister of National Education, Vocational Training, Higher Education and Scientific Research, Pr. Said Amzazi , the General Director, Emerging Markets, Clarivate Viji KRISHNAN Analytics of Clarivate and Prof Smaail Radi Dean of Science Faculty, UMP Oujda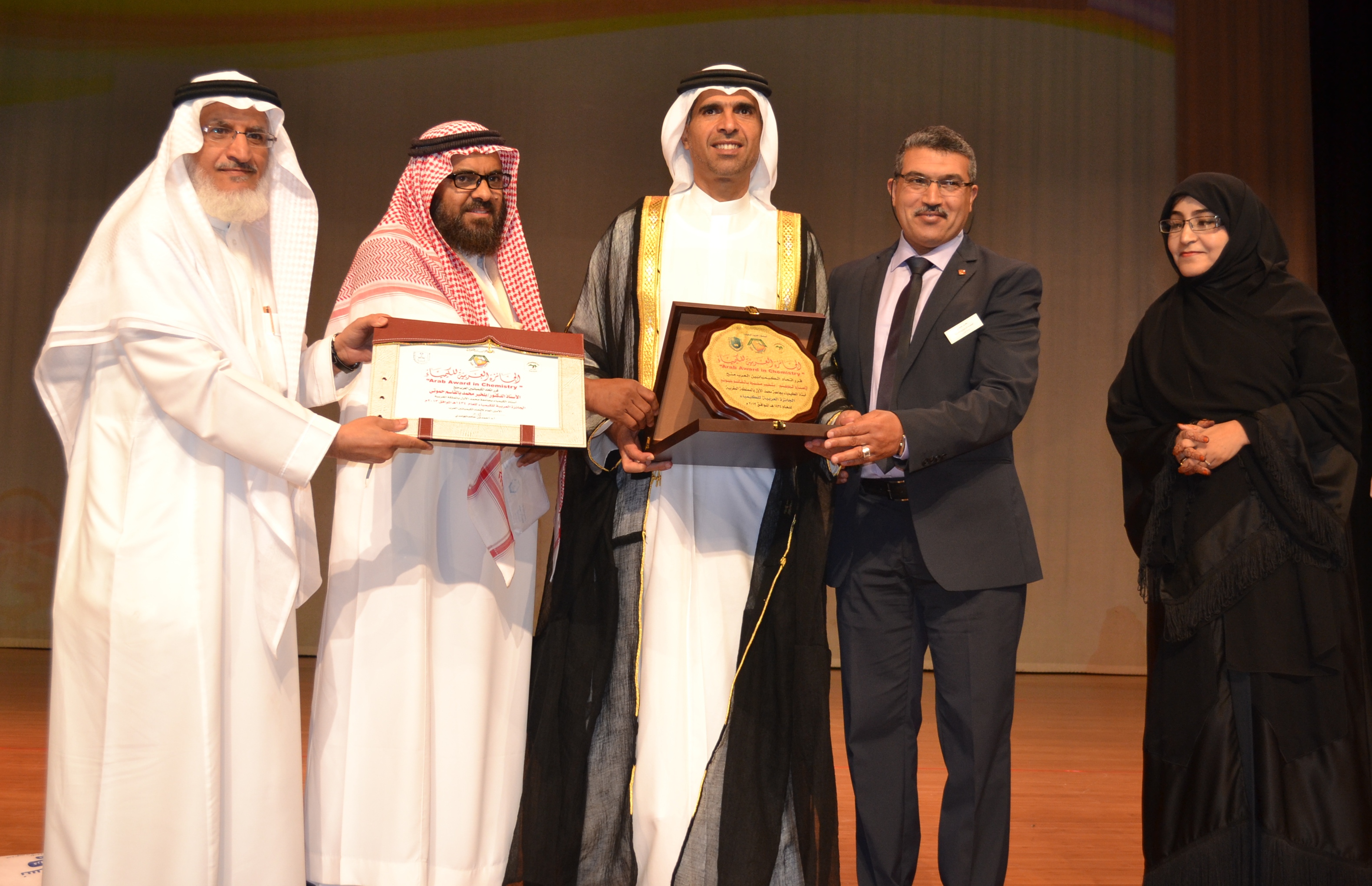 Arab Award in Chemistry
Prof. Hammouti received also the Arab Award in Chemistry 2013. The Award granted by the Union of Arab Chemists in its 32nd meeting in Ras Al Khaimah-Emirates- and funded by the Saudi Chemical Society in April 2013
University Mohammed 1er Honoring
The University of Mohammed Premier Oujda on Thursday, 10 October 2013 honored Professor Dr. Belkheir Hammouti, during the ceremony on the occasion of the tenth anniversary of the start royal initiative for the development of the eastern provences. The event was organized at the Faculty of Medicine and Pharmacy, Ouja. Belkheir Hammouti, professor of Chemistry and research professor in the faculty Sciences at the University of Mohammed Premier Oujda, received recently the Arabic Award in Chemistry, in April 2013 at Rass al Khaima, Emirates Arab United from the Union of Arabic Chemists and funded by the Saudi Chemical Society. Prof Hammouti received in 2006 the Elsevier-Scopus Award as the most Author published in Morocco since the year 2000. He has contributed greatly to the area of Corrosion Inhibition, sensors and natural products research. He produced more than 840 publications and owns 10 patents related to his research. He is co-author of 4 books.